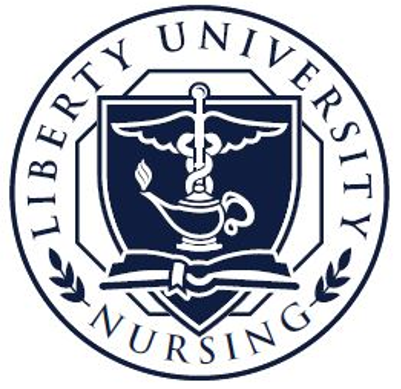 School Mission Statement
The primary goal of the Liberty University School of Nursing is to educate Christian students to minister to others through nursing.
Accreditations
Commission on Collegiate Nursing Education (CCNE)
Program Distinctives
The Liberty University School of Nursing offers a wide variety of nursing programs from pre-licensure Bachelor of Science in nursing through the Doctor of Nursing practice. The School has a state of the art simulation center designed to provide baccalaureate level through doctoral level nursing students a collaborative and interactive learning environment, equipped with high fidelity simulations, B-Line SimCapture Systems, and an OB theater.  Junior level BSN nursing students have the opportunity to experience pediatric, obstetric, and medsurg clinical rotations at short-term acute care distant clinical sites in Richmond, Roanoke or Salem, Virginia.  Within the DNP Program, doctoral students work with standardized patients and an interactive learning pod classroom to facilitate group case study.  Our RN-BSN and MSN programs are completely online, with 8-week courses and rolling admission.  New this academic year, the RN-BSN to MSN program allows students to complete their degree early while earning both the BSN and the MSN degree.  Visit our website to learn more about our program offerings. 
Mission/Service-Learning Opportunities
Students have the opportunity to gain clinical hours through international medical missions trips to countries such as Rwanda, Kenya, and Togo.  During these trips, students utilize their nursing skills to provide needed services and health education.  Additional opportunities include international travel to Israel.  While earning clinical hours, our nursing faculty and students also serve the global community by providing health education, HIV testing and addressing women's health issues.  Locally, nursing students serve the homeless population through a Hands & Feet clinic with the Salvation Army.  Through faculty training in "Bridges Out of Poverty", students will also have a better understanding of poverty and are encouraged to use that foundation as they practice.
Degrees Offered
Bachelor of Science in Nursing (BS, BSN)
RN to BSN
RN-BSN to MSN Accelerated
Master of Science in Nursing (MSN)
Master of Science in Nursing / Master of Business Administration (MSN/MBA)
Master of Science in Nursing / Master of Science in Healthcare Administration (M.S.N./M.S.H.A.)
Doctorate of Nursing Practice (DNP)
Online Degree Options Available