Join the NCF professional network and integrate Christian faith and nursing. Member benefits include the Journal of Christian Nursing — plus get CE, InterVarsity Press and Lippincott publisher discounts, and MORE! Learn more.
Dig deeper into the Bible and discover how following Jesus can make a difference in your nursing profession. See Bible studies for nursing students that integrate faith and practice: Healing Encounters with Jesus and What's Vital?
Nursing students: Discern your place in God's global mission by attending Urbana 18 with 16,000 other students and missionaries. Get an early-bird discount by registering before 30.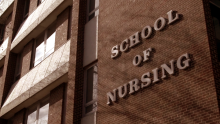 This year dozens of nursing students have decided to follow Jesus and grow in faith. Read these exciting ministry highlights from chapters across the country.
NCF is a non-profit ministry funded by donors who value God's life-altering work among nurses and students. Give to NCF and become a ministry partner.