William Carey University Joseph and Nancy Fail School of Nursing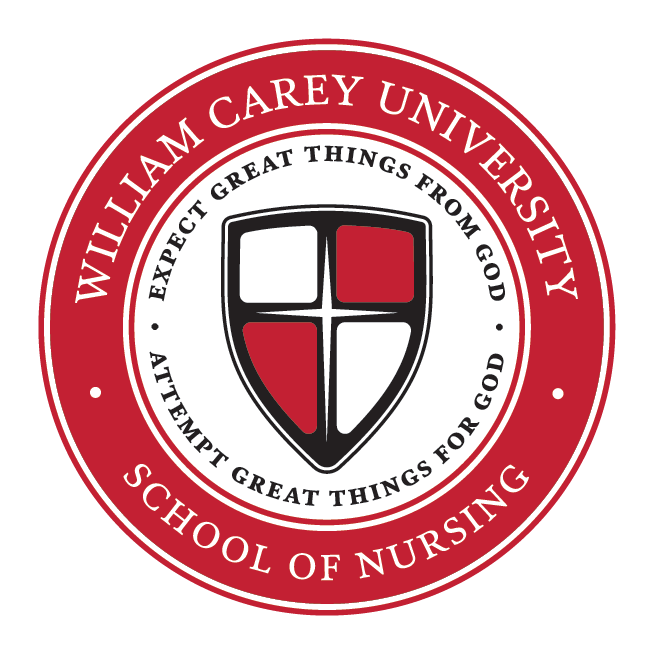 Address:
710 William Carey Parkway
United States
Denominational Affiliation:
Mission Statement
As a Christian university which embraces its Baptist heritage and namesake, William Carey University provides quality educational programs, within a caring Christian academic community, which challenge the individual student to excel in scholarship, leadership, and service in a diverse global society.
Accreditations
Commission on Collegiate Nursing Education (CCNE)
Southern Association for Colleges and Schools Commission on Colleges (SACS)
Mississippi Institutions of Higher Learning (IHL)
Louisiana State Board of Nursing
Program Distinctives
Modeled after the healing ministry of Jesus and designed to offer innovative programming to meet the healthcare field's evolving needs, William Carey University combines personalized, faith-based instruction with cutting-edge curriculum and state-of-the-art facilities. Here, our students are more than just numbers. We prioritize individual success and invest in your future. After all, we believe in caring for our students so our students can care for their patients. Whether you are just beginning your nursing career or you are looking to advance your qualifications, William Carey University offers you the opportunity to answer the call to care.
The Pre-licensure BSN program can be completed in just 18 months.
The LPN Advanced Placement BSN recognizes the knowledge and skills LPNs already possess by allowing them the opportunity to test out of multiple courses.
The RN to BSN program is 100% online, providing convenience for the working RN who wants to advance to their BSN.
The MSN degree admits in fall or spring and offers full-time or part-time options to provide convenient options for working RNs.
Our PhD and DNP to PhD programs feature a guided dissertation process to bolster student confidence is mastering the research process. The PhD program has 2- or 3-year options; and the DNP to PhD program can be completed in 2 years, part time. These hybrid programs are primarily online, with only four weekend meetings on the main campus each year.  This format allows students from all over the country to participate in the programs and, therefore, provides national career networking opportunities.
Mission/Service-Learning Opportunities
Students participate in community service projects with the Student Nurses' Association and host community health clinics at various Christian ministries in our local areas.  Medical mission opportunities are possible as well.
Degrees Offered
LPN Advanced Placement BSN

RN to BSN

Bachelor of Science in Nursing (BS, BSN)

Master of Science in Nursing (MSN) Nursing Education

Post-Master's Certificate

Doctor of Philosophy in Nursing (PhD) Nursing Education & Administration

DNP to PhD in Nursing Education & Administration