Malone University School of Nursing and Health Sciences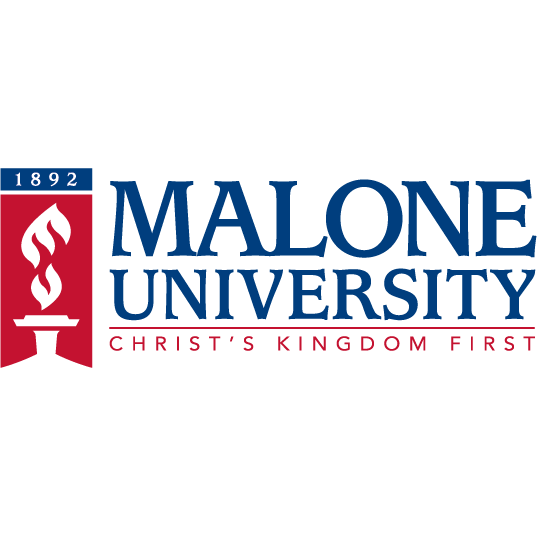 Denominational Affiliation:
Evangelical Friends Church (Quaker)
Mission Statement
The mission of Malone University is to provide students with an education based on biblical faith in order to develop men and women in intellectual maturity, wisdom, and Christian faith who are committed to serving the church, community, and world.
Accreditations
Commission on Collegiate Nursing Education (CCNE) 
Higher Learning Commission (HLC)
Program Distinctives
Malone University's BSN offers direct acceptance into the program for every eligible applicant, and students will begin nursing courses in their first year while gaining hands-on clinical experience beginning in their third semester. Malone's BSN graduates have an impressive first time pass rate on the National Council Licensure Examination (NCLEX-RN): two consecutive years of 100% (2018 and 2019) and two of 96% (2020 and 2021). It's no surprise that 100% of job-seeking graduates are employed within six months of graduation! Program graduates will be prepared to work in a variety of healthcare settings as the post-COVID19 world creates continued adaptations in the field.

Malone University's new, fully online Master of Science in Nursing (MSN) program that can be completed in as little as 24 months. Building on the strengths of Malone's respected MSN degree, which is currently delivered in a hybrid model, the new online offering is shaped to meet the needs of practicing registered nurses. The online modality provides more flexibility and accessibility for students who want to grow and advance in their career by earning the MSN. While completing the degree online, students will receive support in securing clinical placements with preceptors, as well as an opportunity for hands-on learning experiences with Malone faculty through three intensive, advanced skills lab sessions planned for the beginning of the program, the midpoint of the program, and at the conclusion of the program. Tracks and post-graduate certificate options include Family Nurse Practitioner (FNP), Adult Gerontology Acute Care Nurse Practitioner (AGACNP), and a Certificate in Nurse Education.
Mission/Service-Learning Opportunities
Malone offers local, domestic, and international service-learning opportunities for all of our students, including nurses, through our Center for Intercultural Studies: https://www.malone.edu/academics/academic-resources/center-for-intercultural-studies/. The Center also offers three academic programs that can easily supplement a nurse's education: Global and International Studies, Spanish for Service and the Professions, and Urban Studies.
Degrees
Bachelor of Science in Nursing (BS, BSN)
Master of Science in Nursing (MSN)
MSN Tracks: Family Nurse Practitioner (FNP) and Adult Gerontology Acute Care Nurse Practitioner (AGACNP)
post-BSN or MSN: Certificate in Nursing Education