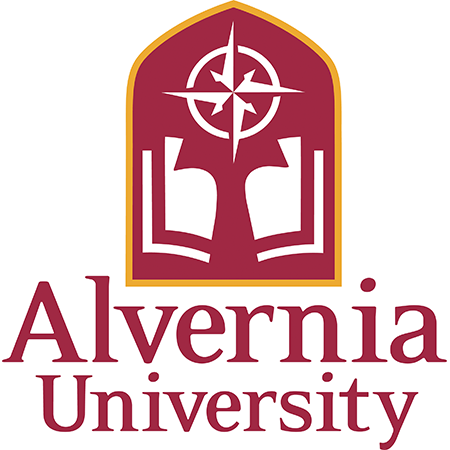 Address:
400 St. Bernardine Street
United States
Denominational Affiliation:
Mission Statement
Guided by Franciscan values and the ideal of "knowledge joined with love," and rooted in the Catholic and liberal arts traditions, Alvernia is a rigorous, caring, and inclusive learning community committed to academic excellence and to being and fostering broadly educated, life-long learners; reflective professionals and engaged citizens; and ethical leaders with moral courage.
Accreditations
Commission on Collegiate Nursing Education (CCNE) 
Middle States Commission on Higher Education
PA State Board of Nursing
Program Distinctives
The Nursing Program at Alvernia University prepares future healthcare professionals to enter the field ready to provide skillful, compassionate healthcare in virtually every setting, from community health clinics and hospitals to schools and nursing homes to emergency and disaster relief sites.

Combining theory with clinical practice, the curriculum develops the skill set necessary for nurses to not only address the physical and psychological needs of their patients across the lifespan, but also to educate and advocate, counsel, research and problem solve with sensitivity and understanding.

Rooted in the University's rich Franciscan traditions, the program challenges students both intellectually and spiritually, emphasizing ethics, moral integrity and reverence for the dignity and care of the human family.
Mission/Service-Learning Opportunities
Service to others is deeply embedded in Alvernia University's Franciscan heritage and remains an important part of our educational mission today. Our goal is to develop not just educated citizens, but engaged citizens actively involved in work to better their communities and the larger world.

We work to meet that goal in a variety of ways. As an Alvernia student, you'll have opportunities to get involved in service projects with our community-based partner organizations, which operate food banks, run mentoring programs, improve the environment, promote social justice, and support other important causes.

Alvernia embraces service learning for what it does for others and for what it can do for you as a student. Projects help you draw meaningful connections between classroom learning and the world beyond the campus. And most importantly, service learning will help you understand your role as a responsible citizen in a complex world.
Degrees Offered
RN to BSN
Bachelor of Science in Nursing (BS, BSN)
Post-Baccalaureate Certificate
Master of Science in Nursing (MSN)*
Post-Master's Certificate
Doctorate of Nursing Practice (DNP)
Other degrees
*Alvernia's MSN Program includes tracks for Nursing Education and Leadership/Administration.
Alvernia offers a post-baccalaureate to DNP program with tracks for FNP and AGNP in addition to post-masters DNP options (Health Systems or Clinical Leadership)