Join the NCF professional network and integrate Christian faith and nursing. Member benefits include the Journal of Christian Nursing — plus get CE, InterVarsity Press and Lippincott publisher discounts, and MORE! Learn more.
Dig deeper into the Bible and discover how following Jesus can make a difference in your nursing profession. See Bible studies for nursing students that integrate faith and practice: Healing Encounters with Jesus and What's Vital?
Inspire, Innovate, and Influence your nursing community with these event resources, prayer guides and a special Bible discussion on the theme.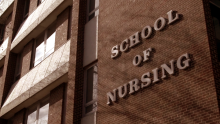 Two nursing students sense a call from God to start an NCF group. They are eager to create a place for their friends to explore faith questions in a supportive community.
NCF is a non-profit ministry funded by donors who value God's life-altering work among nurses and students. Give to NCF and become a ministry partner.